Apprenticeship Programme
What is an Apprenticeship
An apprenticeship is a job with training and is open to anyone who is 16 and over. There is no upper age limit. Apprentices work alongside experienced staff and gain job-specific qualifications. As an employer, you will give appropriate tasks to perform and allocate a mentor/supervisor, and the training provider you have chosen will give the theoretical skills to perform those tasks.
Apprenticeships mean you are employed and will earn while you learn, so you can gain an industry specific qualification at degree level, this is without needing a student loan. You are employed full-time (usually between 30-40 hours per week), which includes the time spent with your training provider/college/university.
You can find out more about apprenticeships here.
Flexible Apprenticeships Manual
A new manual, co-authored by Industry and Government, has been published to set out how flexibilities in apprenticeships can be used and delivered in construction – to meet the needs of employers and apprentices. The 'Flexible Apprenticeships in Construction' manual, sets out:
how the delivery of apprenticeship training can be flexed to meet employer needs; and
how the length of an apprenticeship can be reduced where an individual has existing relevant knowledge or skills.
To access the manual click here.
Information for levy and non-levy employers
The Apprenticeship Levy was introduced for employers operating in the UK with an annual pay bill of more than £3 million.
It is charged at a rate of 0.5% on an employer's annual pay bill.  Only those employers with an annual pay bill of over £3 million will have to pay and report the levy.
Employers paying the Apprenticeship Levy will be able to access the funds they have paid to cover the cost of apprentice training through their Apprenticeship Service account.
Employers with fewer than 50 employees and a total annual pay bill of less than £3million:
If the apprentice is between 16-18 years old, or 19-24 year old with an Educational Health Care Plan (EHC) – the government will fund all the apprenticeship costs (subject to funding maximums).
If the apprentice is outside the age ranges above the employer pays 5% of the apprenticeship training and the Government pays the rest (subject to funding maximums).
All employers will receive £1000 at the start of the apprenticeship if the apprentice is between 16-18 years old, or 19-24 years old with an Educational Health care Plan (EHC).
Non-apprenticeship levy payers have been able to set up and access the Apprenticeship Service account to pay for apprenticeship training. For further information click here
Levy paying employers can also transfer up to 25% of their levy funds to other employers. This will help smaller businesses, possibly your supply chain to invest in more training opportunities.
You can learn more about employing an apprentice, the Apprenticeship Levy, and funding for apprenticeships here
English Apprenticeships: Our 2020 Vision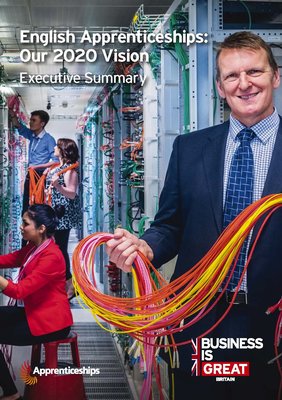 This document provides information about the reform of apprenticeships, the business benefits and the Government's ambitions for them.