New Housing Pipeline
Quarter 2, 2018 Report
The second quarter saw a drop in residential approvals from the historically high levels seen over the last year. The number of units approved during the quarter was 19% down on the first quarter of 2018 and 12% lower than a year ago. The year-on-year decline was driven by an 11% drop in the number of private housing units approved and a 29% fall in units on social housing projects. Glenigan recorded the approval of around 87,636 residential units during the second quarter of 2018. At 76,000 units, housing schemes of ten or more units accounted for 87% of approved units; the remainder being on smaller new build projects including self-build schemes, homes included within non-residential projects, and the conversion of nonresidential properties. At 2,861, the number of private sector housing projects (schemes of 3 or more units) securing approval during the second quarter was 5% down on January to March 2018 and 6% lower than during the corresponding period of the last year. Over 76,500 units were granted planning permission on private sector projects during the second quarter. This was an 17% decline against the preceding quarter, with the number of units 11% lower than a year earlier.
At 161, the number of social housing projects (of three or more units) was sharply (35%) down on previous quarter, but 3% ahead of a year ago. At 7,800 there was also a 37% fall against the preceding quarter in the number of social housing units approved and unit approvals were 29% lower than a year ago. Most parts of the country saw fewer units approved during the second quarter compared to the same quarter of 2017. 
The sharpest fall was in the North East of England where approvals were 38% down on the previous three months and 54% lower than a year ago. Unit approvals were also sharply lower in the North West, West Midlands, London, East of England and Scotland with declines of 18%, 24%, 18% 23% and 26% respectively against a year earlier. In contrast unit approvals in the Yorkshire & the Humber, South West, and Wales were up 23%, 11% and 25% respectively against a year earlier.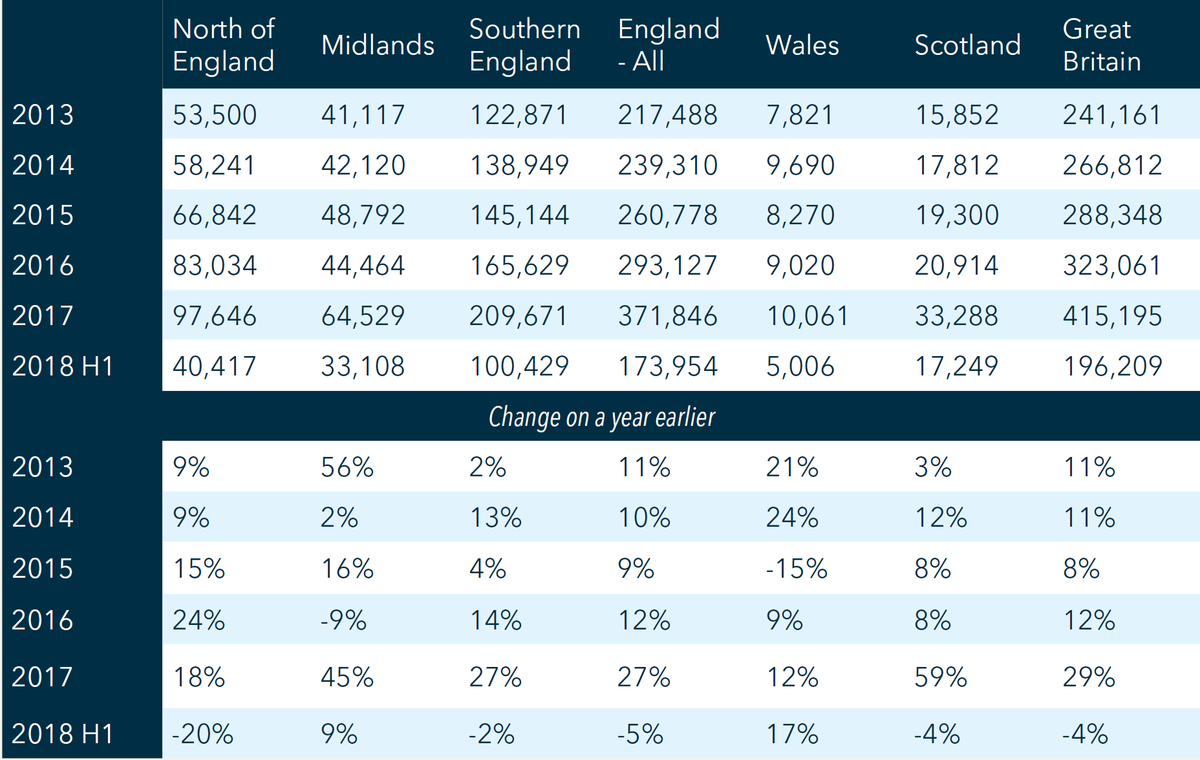 Although overall unit approvals in Great Britain during Q2 2018 were 19% down on the preceding quarter, the drop follows five consecutive years of growth including a sharp 29% increase in 2017. Despite the decline, at 87,600 units, approvals remain above the level seen in 2016 Q3. Approvals for the first half of 2018, at 196,200, were 1% lower than the same period last year.
Download Report in Full