New housing pipeline
Quarter 3, 2021 Report
After a surge in approvals at the start of the year, the number of units approved fell back during the second and third quarter. The number of units approved during the third quarter dropped by 21% against the previous three months to stand 18% down on the third quarter of 2020. The decline was due to a weakening in both private and social sector approvals.
Glenigan recorded the approval of 70,245 residential units1 during the third quarter of 2021. At 62,434 units, housing schemes of ten or more units accounted for 89% of approved units; the remainder being on smaller new build projects including self-build schemes, homes included within non-residential projects, and the conversion of non-residential properties.
At 2,308, the number of private sector housing projects (schemes of 3 or more units) securing approval during the third quarter rose by 6% against the preceding three months but was 7% lower than a year earlier.
However, fewer larger schemes securing approval prompted a 19% decline in the number of units granted planning permission on private sector projects. At 73,630, the number of units approved was also 17% down on a year earlier.
At 129, the number of social housing projects (of three or more units) dropped by 20% against the second quarter and was also 29% lower than a year ago. At 6,561, the number of units was 35% down on the second quarter and 25% lower than a year earlier.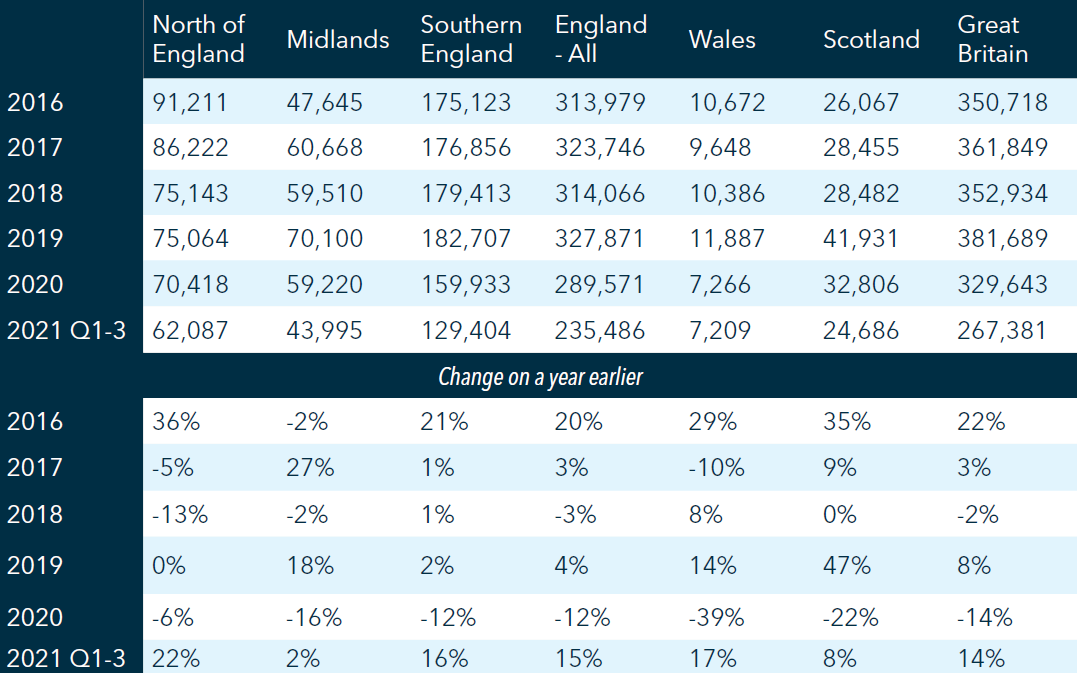 Most parts of the UK saw a softening in unit approvals during the third quarter against the preceding three months, with the East of England, Yorkshire& the Humber and Wales the only regions to see growth with increases of 25%, 14% and 19% respectively. The sharpest declines were in the North East, London and Scotland with falls of 59%, 40% and 40% against the preceding quarter. The East of England (+4%) and the South West (+12%) were the only two regions with the number of units approved up on a year ago.
Download Report in Full
// Media JS