New Housing Pipeline
Quarter 1, 2019 Report
The number of units approved during the first quarter dropped 10% against the previous three months and was 13% lower than a year ago. The year-on-year decline was driven by a 14% drop in the number of private housing units approved and a 10% fall in units on social housing projects. This fall follows a 6% decline in the number of residential units approved last year.
Glenigan recorded the approval of 98,229 residential units during the first quarter of 2019. At 87,323 units, housing schemes of ten or more units accounted for 89% of approved units; the remainder being on smaller new build projects including self-build schemes, homes included within non-residential projects, and the conversion of non-residential properties.
At 2,807, the number of private sector housing projects (schemes of three or more units) securing approval during the first quarter was 5% down on October to December 2018 and 8% lower than during the corresponding period of last year.
84,295 units were granted planning permission on private sector projects during the first quarter. This was an 11% decline against the number of units during the preceding quarter, and 14% fewer than a year earlier.
At a figure of 203, the number of social housing projects (of three or more units) was 19% up on the previous quarter but 21% lower than a year ago. Although the number of units has recovered from a weak performance during the middle of last year, at 11,076 social units were still 3% down on the previous three months and 10% lower than a year ago.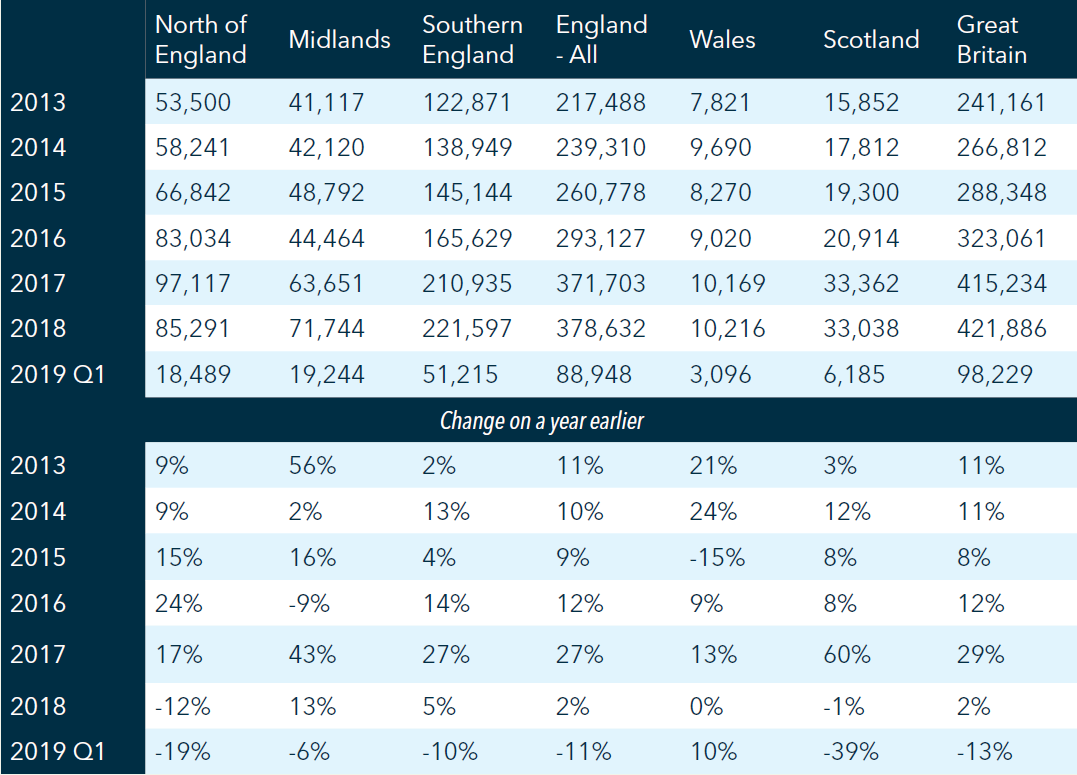 There was marked variation across different parts of the country in approval levels during the first quarter compared to the same quarter of 2018. The sharpest falls were in the North East and Scotland where the number of units approved were down 45% and 39% respectively. Unit approvals were also sharply lower in London, South East, South West, North West and East Midlands with declines of 11%, 26%, 20%, 23% and 21% respectively against a year earlier. In contrast unit approvals in the West Midlands, East of England and Wales were up 7%, 36% and 10% respectively against a year earlier.
Download Report in Full