Mental Health Awareness Resources
The Home Builders Federation is working closely with construction charity, the Lighthouse Club to promote mental health awareness across the home building sector. There are a number of resources and information available for employees who are experiencing mental health issues, which can be accessed below, please feel free to use and circulate these.
Increasing Mental Health Awareness in House Building
Drawing the line on mental health
Toolbox Talks
A Tool Box Talk is a fantastic way to deliver information to your workforce on mental health by educating them on the signs to look out for and how to start conversation.The Lighthouse Club has created a Tool Box Talk template that you can use and tailor to your own organisations branding below.
The presentation comes with guidance notes, videos and is fully scripted. Simply click below to download in powerpoint and pdf format.
Industry Resources
Construction Helpline Promotional video
A 24/7 construction industry helpline is available to provide employees and their families with support on 0345 605 1956.
For those that do not feel comfortable discussing their feelings or personal circumstances, a construction industry helpline app has been created to give individuals information, advice and guidance on how to relieve the long term effects of stress, anxiety, depression. To find out more and to access the app visitwww.constructionindustryhelpline.com/our-app.html.
To actively promote the helpline and the support that is available to your employees, helpline packs and stickers are available to purchase. Providing your offices with posters and cards. To purchase your helpline pack visit www.constructionindustryhelpline.com/store/c2/Construction_Industry_Helpline_Packs.html
MHFA England: My Whole Self

My Whole Self Day is a celebratory day that aims to create a culture where people have the safety and freedom to choose which parts of their identity they share at work, without fear of judgement. MHFA England host the event and have created some helpful resources to support employees too.
My Whole Self MOT - This free guide helps individuals check in and on other's mental health and wellbeing. It can be a useful tool to talk about mental health during any one-to-one sessions with direct reports,
Run a My Whole Self activity- Over 2,000 employees surveyed found team building activities the best wellbeing support. MHFA England has created three activity ideas to help build deeper connection among teams
Supporting your mental health while working from home - As many people continue to work from home, MHFA England has created some guidance for ways to support your mental health while working from home.
Health and Safety Executive Resources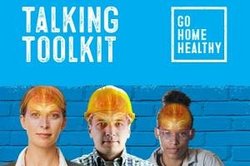 Tackling Work-Related Stress: A step by step workbook - Stress is a major cause of sickness absence and costs organisations £5 billion a year in the UK. This workbook will help organisations to assess risks to employees and give practical advice and guidance on how to manage work-related stress.
Prevent Work-Related Stress: Talking Toolkit - The Health & Safety Executive has joined forces with the Construction Leadership Council to encourage the whole industry to start a conversation about employee stress. To ensure that every business has the support it needs to look after its employees, this toolkit provides guidance on how to prevent work related stress in construction.
The Stress Indicator Tool (SIT) - The Indicator tool is free to pilot for a maximum of 50 employees. The tool is online and measures the attitudes and perceptions of employees towards work-related stress and then provides anonymous feedback. It is a quick and easy way to determine the extent to which work-related stress is a problem.
Andy's Man Club
The risk of suicide amongst male labourers, particularly in construction, is 3 times the male national average. Andy's Man Club is a volunteer led service, currently with meeting places across the North and South Coast.
It offers a safe, welcoming space for men to meet and talk in an informal, supportive environment. Its popularity has grown hugely since it was started in memory of Andy, who died from suicide in 2016.
For more information and to find your nearest meeting point visit http://andysmanclub.co.uk
Becoming a Mental Health First Aider
A Mental Health First Aider is the dedicated person to go to for anyone experiencing some form of mental health issue. They are trained to recognise the symptoms of mental health and can guide those in are in need before it issues escalate.
To become a Mental Health First Aider for your organisation, there are a number of companies you can contact for training by visiting https://www.buildingmentalhealth.net/resources.html#training. A number of resources on Mental Health First Aid for employers and employees are available for you to use below.
MIND - Wellness Action Plans
Mind, the mental health charity, has created some helpful guides for employees and line managers to address and support employees wellbeing at work. The guides provide different approaches to managing the mental health of staff and tackle the causes of work-related mental health issues.
The Recovery Village
The Recovery Village® aims to improve the quality of life for people struggling with a substance use or mental health disorder with fact-based content about the nature of behavioral health conditions, treatment options and their related outcomes. We publish material that is researched, cited, edited and reviewed by licensed medical professionals. To find out more visit www.therecoveryvillage.com/mental-health/.
Protecting mental health during the coronavirus pandemic
Rehab 4 Addiction, an advisory service founded to assist those affected by substance misuse, has produced a new infographic outlining the steps individuals can take to protect their mental health during the ongoing coronavirus pandemic. The infographic is a helpful resource with tips on:
Recognising mental health problems in others
Statistics on the impact of remote working arrangements on the mental health of employees
A confidential helpline
Looking after your mental health during the pandemic.
For further information, please view the infographic here.

// Media JS