The 'instagram effect' transforms our homes
Almost half of 25-40 year olds will only photograph their home if it's 'photo ready'
1 in 5 Brits admit to cleaning their home especially for social media!
Following the recent enforced period at home, our obsession with home styling has soared.  With Brits swooning over dreamy interior images on social media and striving for the same envy inducing shots, 38% admit they will not take photos of their home if it is not up to the standards that we set ourselves online.  A new survey released today by the Home Builders Federation (HBF) to mark the launch of New Homes Week Unlocked, shows that:
1 in 5 Brits (19%) state they have spent time cleaning a room in their house specifically to create a background for 'the perfect photo' to upload for social media
New research reveals that nearly a quarter (23%) of Brits aged between 25-34 look to social media for home inspiration every day, compared to just 1 in 7 (14%) aged between 45-54
Nearly 2 in 5 (38%) people across the UK divulge they will not take photos inside their house if it isn't photo-ready with over half (51%) of those aged 25-34 revealing the same obsession

Furthermore, with one in six revealing that they would be more likely to update their social media followers about their move if they were buying a brand-new home, it's no wonder that the new-build Instagram scene has grown so significantly. Real, everyday people are now documenting their new homes and sharing tips and tricks on Instagram, reflecting the increased role of the social media platform on the home buying journey.  The New Homes Week Unlocked research also uncovered the following:
The most popular first picture excited brand-new home buyers would take for Instagram would be the outside of the house, with almost 1 in 7 (13%) saying they would do this
Just over 1 in 6 (16%) in the UK reveal that they are currently not happy with the way their home is decorated
1 in 5 (18%) Brits say they would be prepared to spend over £10,000 annually on decorating their home to make it look picture perfect
Almost a quarter of people (22%) aged 25-34 reveal that whilst being in lockdown their interest in interior design has increased, compared to just one in eight (12%) of those aged 45-54
3 in 10 (30%) of Brits aged between 25-34 say they would be more likely to update their Instagram followers about their move if they were buying a new build home instead of a property that has been lived in
Overall, 1 in 6 (16%) Brits would be more likely to update their Instagram followers about their move if they were buying a new build home instead of a property that had been lived in
Stewart Baseley, executive chairman at the HBF comments: "Homes have become our sanctuary more than ever recently, particularly since we have all spent months in lockdown looking at the same four walls. With a new build home people are proud to show off the design features, clean finishes and custom details."
Supporting New Homes Week Unlocked is designer, TV presenter, influencer, podcast host and interiors expert, Sophie Robinson.  She adds: "Instagram and interiors are the perfect match and whether you're a professional designer or passionate fixer upper, we're all plumping cushions, squirreling away the mess and playing with lighting and filters to get the shots of our homes looking just right.    New-build homes are a complete blank canvas which is ideal as you aren't inheriting someone else's taste. There's an exciting opportunity to utilise all the brilliant interior advice and design inspiration out there, without the challenges of taking on costly renovations. You can focus on the pretty stuff!"
Additionally, the research revealed that new home buyers were planning on being very sensible with the savings they will make due to the stamp duty holiday announced by the chancellor.  When asked what they would do with the thousands of pounds they could possibly save, 44% revealed they would put it into savings and 19% would splash out on interiors for their new property. 
As well as providing valued guidance to potential buyers following the Covid-19 crisis, New Homes Week Unlocked has been designed to support the industry's comeback.  House building can play a major part in helping the economy recover and Government is working closely with the industry to get build levels back up to pre-crisis levels.
The week will focus on supporting buyers to press ahead with the plans they have been forced to put on hold.  As show homes around the country re-open their doors, with social distancing safety procedures in place, the event will provide expert guidance on how to take advantage of the fantastic incentives available to purchasers following the covid-19 crisis.  New Homes Week Unlocked will also showcase the vast range of beautiful new homes available around the UK and the benefits of opting for a brand-new build.  Modern layouts and fresh interiors promote easy living and a wonderful opportunity to nail the search for the perfect property.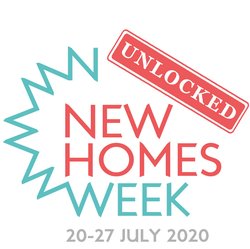 -ends-
For further information contact: Alice McCutcheon on 07834 767 609 or alicemc@oraclepr.co.uk
Notes to editors:
This research was conducted by Opinion Matters using a sample of 2000 Nationally representative UK adults aged 18+.
For more information about New Homes Week Unlocked go to New Homes Week Unlocked or follow the event on Instagram