NHW 2022 - Digital and PR strategy
New Homes Week #NewHomesWeek New Homes Week 2022 will take place on the week of 21st March. (21st March - 27th March 2022)
Below you will find series of social media posts, images, videos, infographics and other items for you to use to support New Homes Week.
We have decided to split the week into themed days and from Monday – Saturday we have influencers posting content based on show home tours twice a day on their Instagram accounts. Please also engage with these posts.
New Homes Week 2022 themes
See details below on the themes for each day, and the influencers who will be posting:
Monday Theme: The benefits of a new build home
Influencer: @Home_By_The_Cloud (24.7k followers) at Heatherley Wood (Bellway)
Tuesday Theme: Sustainability
Influencer: @Mama_and_minimees (20k followers) at Trinity Fields (Avant Homes)
Wednesday Theme: New spaces for today
Influencer: @Sj_Strum (36.7k followers) at Stone Studios (Telford Homes)
Thursday Theme: Incentives / ways to buy
Influencer: @Erin.Grace.B (46.6k followers) at Bidwell Mews (Storey Homes)
Friday Theme: Local fun
Influencer: @jadevanrielx (27.1k followers) at Hendricks Green (Redrow)
Saturday Theme: No DIY
Influencer: @Stacey_and_Three (35.2k followers) at Lockside Wharf (Taylor Wimpey)
Sunday Theme: Easy moving
Supporting New Homes Week
Please use all or as many of the images, videos and text below as you feel suitable. This will be continued to be updated. But also don't forget to promote your new build homes, using the hashtags to support the campaign: #NewHomesWeek #NewHomesWeek22 . We will be monitoring these hashtags during the week and sharing your posts on the New Homes social media channels. 
Also, please feel free to share any New Homes content you see coming from the official channels. Links below...
Content to use
Social Media Toolkit
The social media posts and images below are to be used ahead of New Homes Week. You can download all assets and content as a zip file here.
---
Previous content to use
Below are a series of videos and infographics which we have previously used. Please feel free to reuse these again in your social media posts.
2020
2019
Press release
Contacts
If you have any questions regarding New Homes Week, please contact either:
Downloads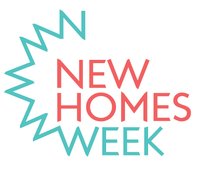 // Media JS