Diversity , Inclusion and Wellbeing
The industry recognises that if it is to attract the best and the brightest to home building there is a need to develop a more diverse and inclusive workforce.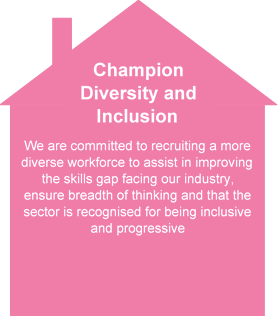 The Home Building Skills Partnership is working with home builders and their supply chain to promote diversity and inclusion in the workplace. We have established a Diversity and Inclusion Group to ensure the sector is recognised as being inclusive and progressive. Find out more about the work of the Diversity and Inclusion Group and the resources we have developed to promote a culture of fairness, inclusion and respect at our                              Diversity and Inclusion web page.
Diversity is a recognition that everyone is unique. In practical terms, this means acknowledging the benefits of being able to draw upon a wide range of experiences and perspectives in decision-making processes through having a workforce that is formed of a broad mix of people.
Building on this, an inclusive workplace is one in which everyone feels valued and able to perform at their best, regardless of their circumstances, background, or identity.