Case Study - Barratt Homes

Barratt London and Barratt Developments have been involved right from the start of the Pathways programme, pledging their support for placements for women seeking a professional career in home building. The House Builders supported the speed interviews as part of the development of presentation skills, and recruited three women into a variety of placements. Barratt was the first company on the project to offer employment, to Rebecca Kaukau as an Assistant Health and Safety Advisor.
Rebecca Kaukau - Assistant Health & Safety Advisor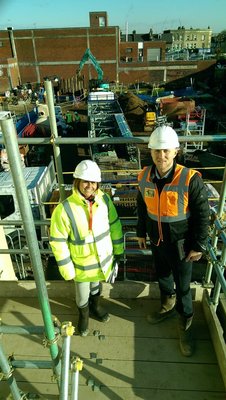 Originally from New Zealand, Rebecca explains: "At 18 I was a young married stay at home mother, at 19 we built our first home.  As my husband went on to develop a career in Construction I always had some form of exposure to the construction industry and enjoyed it very much.  As the children grew older I decided to do a teaching degree and went on to complete my NEBOSH GC, SMSTS and applied for health and safety roles, but unfortunately had no luck.
Rebecca joined HBSP Pathways into Home Building Programme run by Women into Construction in North London in November 2019 where she gained valuable insight into the industry, employability skills and a management CSCS card. "I happened to come upon a post on LinkedIn which caught my attention for a Women Into Construction information day. I liked what I heard and signed up. What did I have to lose, a guaranteed placement with support in travel, it was a no brainer," explained Rebecca.
A key component of the pathway programme is a work placement, Rebecca's consisted of one week on a project site of superstructure, tower cranes, commercial experience various phases and stages of construction and heaps of mud. This made a quick positive impression on Rebecca: "I knew immediately this was for me."
Her second week consisted of working with the regional SHE (Safety, Security, Health and Environmental Protection) Manager on his monitoring project visits to advise and check SHE documentation was compliant.
Luckily, on day six of her placement a role was mentioned to Rebecca, and by day eight the job of SHE co-ordinator was hers. Rebecca's work consists of supporting project sites with compliance and raising awareness of health and safety obligations with Barratt's contractors.

// Media JS