Apprenticeship programme
Information for levy and non-levy employers
Introduction
This area of the website will help you to understand the Government's apprenticeship reforms and their impact on your business. It provides up-to-date information and links that will support you to shape your apprenticeship programme.
Changes to how Government funds apprenticeships in England
The way Government funds apprenticeships in England has changed for all employers. In April 2017, the Government apprenticeship levy was introduced for employers operating in the UK with an annual paybill over £3 million. These funds will be used to grow the investment in apprenticeships to £2.5bn by 2020.
If your UK annual paybill is less than £3 million, you are also subject to funding changes for apprenticeships from May 2017.
The funding changes are part of wider reforms to give employers more say over the design and delivery of apprenticeships. The aim is to improve the quality of apprenticeships, and encourage more businesses to invest in skills and boost productivity.
English Apprenticeships: Our 2020 Vision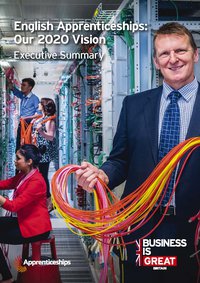 This document provides information about the reform of apprenticeships, the business benefits and the Government's ambitions for them.
Apprenticeship Funding Guidance
The rest of the apprenticeship information is presented separately for levy and non-levy paying employers.
Levy paying employer information can be found here
Non-levy paying employer information can be found here