The Home Building Skills Partnership (HBSP) was set up by the Home Builders Federation in 2016 (initially funded by CITB) and is a collaboration of home builders and supply chain organisations working together to attract and develop the workforce of the future and in doing so change the culture of the home building sector.
The HBF Skills Partnership team supports and facilitates collaboration between home builders, companies committed to working together and with subcontractors to recruit and train more people to the highest industry-agreed standards and ensure that the home building industry can recruit and train the people necessary to deliver the supply of good quality new homes the country needs.

The skills gap, whilst acknowledged by the sector, requires a collective and committed response if we are to tackle it sustainably in the long term. By working together, we will send a powerful message, not only to the wider home building sector, but to government, education and careers providers, and of course, future recruits that the industry is serious about tackling the skills shortage.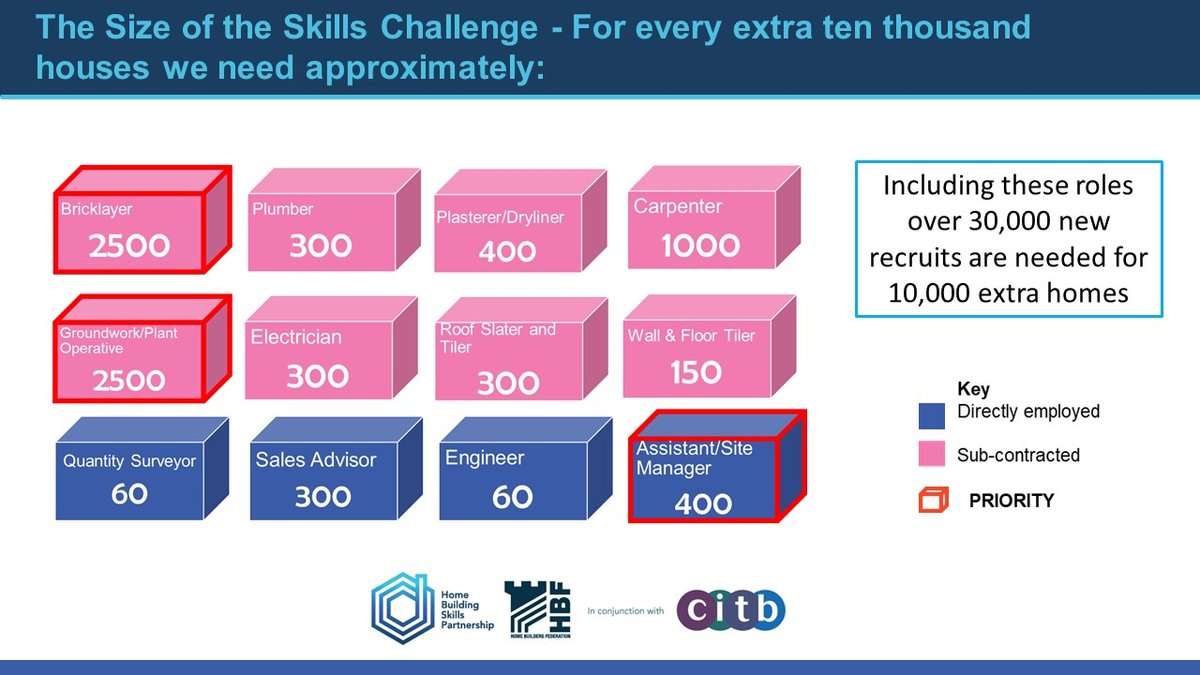 The long term key aims of the Partnership focus on:
Career Attraction – how to attract new entrants into the industry.
Skills and development – how the industry trains its staff.
Supporting supply chain development – the training interface with subcontractors.
Diversity, Inclusion and Wellbeing particularly mental health
For each of these areas, the Partnership has set up an activity group that will focus on shaping individual workstreams and pushing important work forward together.
Ultimately, the objective is to instigate a shift in culture and behaviour at all levels of the home building industry – from the major home builders, right through to SMEs. Together we can achieve that.
In 2017 the Home Building Skills Pledge was launched, companies committing to working together and with subcontractors to recruit and train more people to the highest industry-agreed standards.  All of HBF's larger members have signed up alongside an increasing number of medium and small members – meaning companies responsible for well over half the homes built in England are already committed to the five key actions set out in our                                   Home Building Skills Pledge.
Companies that have signed the Home Building Skills Pledge so far can be found here:    If you'd like to find out more, or wish to sign up to our Home Building Skills Pledge, please email skillspartnership@hbf.co.uk.